About Housing First Oak Springs
When you have access to tools like housing to regain health and independence, counseling to support emotional health, and drug and alcohol treatment to help with recovery, you can reach your full potential and contribute to our community. Housing First Oak Springs is an apartment community that offers these services to people experiencing homelessness in Travis County to support their well-being. With a safe place to live and appropriate support services, people thrive and recovery begins.
We know that housing is more than four walls. It's the basic foundation for mental health and well-being.
When you live on the streets, it's extremely difficult to seek recovery from a mental illness or substance use disorder. Housing First Oak Springs is a unique type of permanent supportive housing. In this evidence-based model, individuals move immediately, without pre-condition, from the streets or shelters into housing. Once housed, they are offered rehabilitation services and recovery supports to help them regain their health and stability. With a safe place to live and appropriate support services, the vicious cycle of shelter, jail, and emergency room ends and recovery begins.
Modeled on other successful Housing First programs across the country, Austin Travis County Integral Care's Housing First Oak Springs is the first of its kind in Travis County. Construction started in January, 2018 and is expected to open in the Spring of 2019.
Housing First Oak Springs will be located at 3000 Oak Springs Drive, Austin, TX. It will be a four-story, 40,000 square-foot housing complex with 50 fully-furnished single occupancy efficiency apartments, an integrated health clinic offering primary care and behavioral health services, a community room, supportive employment, outdoor exercise space, computer lab, vertical gardens and more.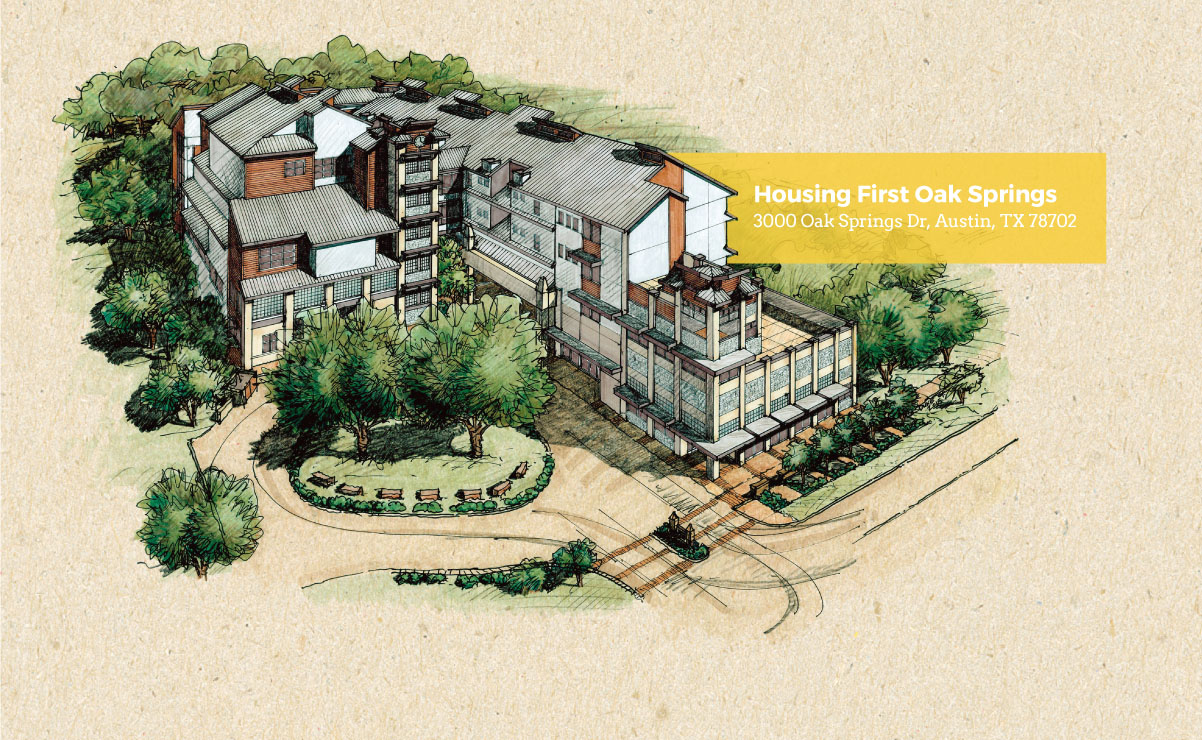 Features include:
50 fully-furnished efficiency units for single individuals with kitchenette, bedroom and living area
Health care clinic offering mental health, substance use and physical health services (clinic services will be available to the community)
Health care team includes a medical doctor, a psychiatrist, a psychiatric nurse practitioner, nurses, medical assistants and case managers
Community room
Computer lab
Supported employment services
Easy access to public transportation
On-site laundry facility
Outdoor green space
On-site staffing 24 hours a day
On-site security cameras
Neighborhood Planning Resource: If you live or work near Housing First Oak Springs and have questions, please outreach@integralcare.org. We can  schedule neighborhood presentations as well as answer questions via email about Housing First.  Please note: We will answer questions within three business days. If additional time is needed for research or information gathering, we will let the requesting parties know about a delay.