Meet the Staff: Kristi Kaiser
We recently met with Kristi Kaiser, Program Manager II with the Healthy Community Collaborative.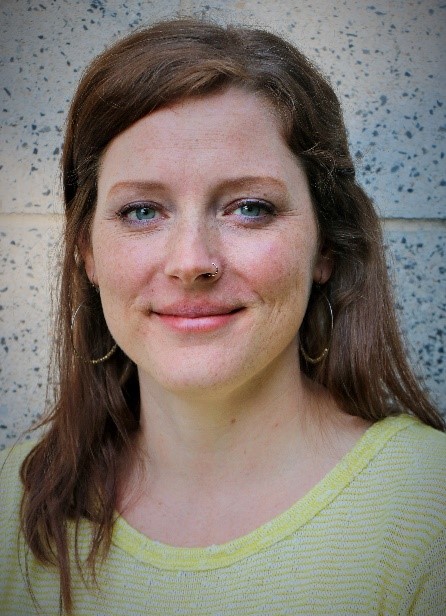 Tell us about your role at Integral Care.
I am a Program Manager with the Healthy Community Collaborative team.  Our program works to expand services to individuals experiencing mental illness and homelessness.  I manage a team of nine at Community First! Village—a supportive housing community in East Austin with unique dwellings for the individuals who were chronically homeless.  I am responsible for overseeing operations at Integral Care's on-site clinic, The Topfer Family Health Resource Center.  On a day to day basis, I coordinate the interested resident prioritization list, interface with community partners, and work with our mental health experts in our clinic. I also maintain a relationship with Mobile Loaves and Fishes, the ministry that developed the community and serves as Resident Care and Property Management.
What are some opportunities you see in your position?
I am fortunate enough to be part of a larger team that values and honors flexibility and thinking outside of the box in order to best meet the needs of our clients.  As the census grows at Community First! Village, my team has been able to expand and includes mental health case management, Peer Support services, as well as medical and administrative staff.  In the future, I can imagine growing our capacity for outreach as well as potentially bringing DBT, WRAP or skill building groups. We have been working to increase primary and specialty medical care, as well as develop a Health Risk Assessment that would allow us to track health outcomes for those transitioning from the streets into housing.
What do you enjoy most about your work?
I feel that one of my most fundamental functions is to build a team that likes each other and likes their job.  Because this was a new project, I was able to hire my team from the ground up, allowing me to be selective about bringing on staff who are dedicated to providing quality care to an otherwise underserved and often misunderstood population.  As a team, we have been able to play a part in transitioning 134 individuals into permanent housing from chronic homelessness.  It doesn't get better than that!
Describe about an impactful experience you have had here.
Just recently, we were able to rehouse an individual at Community First! Village who had been evicted and incarcerated.  It was pretty rewarding to see how things came full circle for him, and how low-barrier entry allowed him to return to the community that he's chosen as his permanent home.  He has since accessed residential substance use treatment, and is eager to continue taking advantage of the array of wrap around supports available to him at the Village.
Is there anything else you'd like people to know?
The Housing First model works! An individual is only able to start building stability once they have a safe place to call home.  People need this basic necessity before attending to things like getting a job, or managing their substance use.  This approach is universally appropriate for individuals or households experiencing any degree of service need—not to mention how cost effective this intervention is! Providing access to housing without pre-condition saves the community money, as housed people are less likely to utilize emergency services including hospitals and jails. Housing First is a win-win for all!