Meet Audrey Kuang, MD, Internal Medicine Physician & Clinical Lead at ARCH/Mobile/Street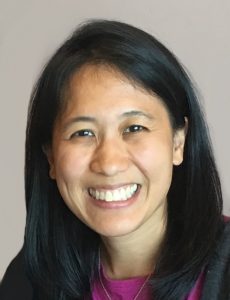 We recently met with Audrey Kuang, a physician and the clinical lead for CommUnity Care's ARCH/Mobile/Street clinic. The clinic provides full-service primary care to patients at the Austin Resource Center for the Homeless (ARCH). They have a mobile team that provides on-site medical care at several community locations and a street medicine team that provides care to those staying at encampments, bridge underpasses, and anywhere that care is needed.
Audrey is also the Associate Director of Community Engagement and Health Equity at CommUnityCare and Assistant Professor in Department of Population Health and Internal Medicine at Dell Medical School.
What are your thoughts on the Housing First model? Why do you believe in it?
Without housing, you can't do health. Housing is absolutely fundamental to a person's wellbeing.
As a medical provider, so many medical problems we see are directly related to the absence of housing.
We see back problems that result from carrying a 50-pound backpack all day, which is exacerbated by sleeping on concrete.
We see foot ulcers from being on their feet all day that progress to leg amputations because these cannot heal on the streets.
We see poorly controlled diabetics who then develop kidney failure and blindness because of the difficulty in taking medications while living on the streets. As a doctor, we spend so much of our training learning about physiology, pathology of disease and the appropriate treatments and drugs needed. At the end of the day, housing is what my patients need most.
Tell us what guides your work providing primary health care to the homeless.
The healthcare system has many assumptions- that patients have a phone, transportation, access to food, a home and that they can advocate for themselves. For individuals suffering from homeless, every aspect of medical care is a challenge. Therefore my goal is to offer medical care that is easy to access with as few barriers as possible.
Our shelter clinic is a one stop shop where many needs can be addressed. Not only do we provide medical (acute, chronic and preventative) care, but also offer mental health services, assistance with things like transportation, medications, food stamps, vision vouchers and insurance.
We engage our patients where they are staying, rather than waiting for them to come to us through our mobile and street teams.
We strive to create a safe and welcoming environment where our patients feel respected, heard, and their priorities and preferences are incorporated into the treatment plan.
We believe in community collaboration and are fortunate to partner with Integral Care and Austin Travis County EMS Community Health Paramedics who bring healthcare for the homeless to a whole new level.
What's your background that made you want to work with this population?
One of my first jobs was working as a hospitalist. I quickly started to see the revolving door of the hospital for my homeless patients who would come back to the hospital days to weeks later because they couldn't take care of their wounds, they couldn't afford the medications, and they were unable to make it to their follow up appointment. It was then that I helped start the Santa Clara County Medical Respite Program which gave homeless individuals a safe and clean place to heal after an acute hospitalization, while addressing mental health needs, substance abuse issues, and working on benefits and housing. Working alongside our social worker,  nurse, psychiatrist, community health worker and addiction specialists, affirmed my belief in the importance of integrated, team-based, holistic care. I am hoping to start a program like this in Austin someday.
I believe all lives are of equal worth, yet not everyone gets equal treatment. To me, this truth is unacceptable. As the wealth gap grows, so does the health gap. I make it my mission to change that.